One of the goals on grass-root exchange
One of the goals in the grass-root exchange is to make a good relationship to care about each other, which leads to a better world.
A huge typhoon has gone through Japan leaving serious damages in various places.
My place in Aichi barely had any damages, but my parent's place and neighbours in Tokyo were in more serious condition with roads collapsing into the river leaving the village isolated, or tearing the house down.
I hope everyone is safe, and although if there have been some damages, I hope it will recover soon.


Then, I received this e-mail from the United kingdom.
It was from one of the guests who were with me when we had 12 days tour through Japan, visiting Kyoto, Nara, Himeji, Hiroshima, Miyajima, Takayama, and Tokyo.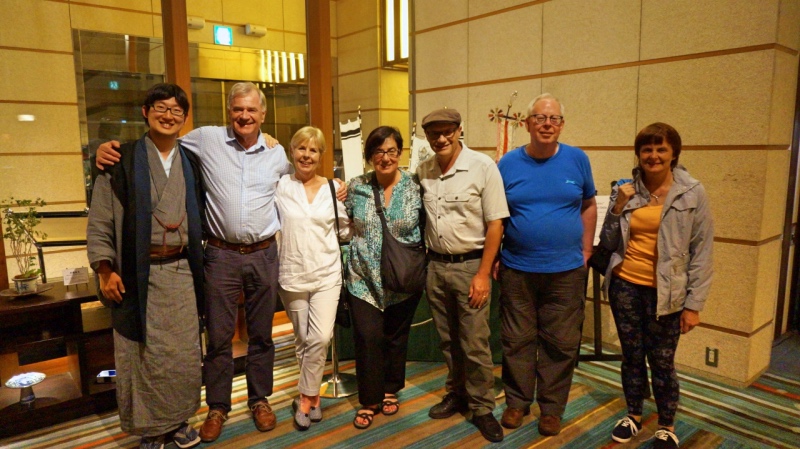 I will post a report about this trip on another article.
And, the e-mail said that she has been thinking about her time in Japan.
Since the rugby world cup is being held, and we are expecting the 2020 Olympic games, there has been considerable coverage in the U.K.
It's always interesting to see scenes and think that she has been there.
Thinking about the time when she was in Japan, brings back good memories.
And she has heard about this typhoon in Japan, and couldn't help hoping that we are safe and not suffering from much damage.


When I read her message, I was so happy to hear that she is still thinking about the time we had together in Japan and caring about our situation, although it has been a while since we had this trip.
The guide and the guest will only see each other for just a couple of hours, but this couple of hours will be very rich in content, making their day.
At the end of the day, we wish them to feel that it was a great day, a great experience, love Japan.
Furthermore, we would be so happy if they keep having this feeling even after they went back to their country.
This email shows a perfect example of what we aim as a citizen diplomat.
If you have a good friend or someone special in other countries, you will care about what's happening in their country.
I believe that caring will decrease arguments, increase the spirit of helping each other out.
As an interpreter guide and as a part of international communication, I will do my best to entertain my guests.
And if we can build up a good relationship at the end of the day, the world should become better and better.
コメント